By now, most people are familiar with the hit song "The Fox (What Does the Fox Say?)" by Norwegian artist Ylvis, who went viral when his video debuted in 2013.
And if not, have a listen.
Aidyn loved it at first listen and has since played the song a gajillion times and even recorded his own lip-syncing video of "What Does the Fox Say?". And like any good homeschooling parent, when my child is obsessed with something, I turn it into a unit study. Ha, ha.
I scoured the internet for a pre-made WDtFS unit study and only found cutesy ones for younger children, so I scraped some ideas together and created a fun, age-appropriate study for Aidyn.
Language Arts: Introduction to Satire
In case you weren't aware, Ylvis released a children's book based on his YouTube viral video, but recreating all the silly fox sounds rests all on your shoulders.
So I asked Aidyn to read it to me.
We talked about how goofy the song and the lyrics are...
...and that the song is a
satire
of pop songs with insanely stupid lyrics somehow topping the charts. I gave Aidyn a very simple definition of satire: something that makes fun of something else to make a point. In this case, it's a song that makes fun of other popular songs to prove that society gravitates toward silly songs based on how catchy they are.
For fun, we read other children's satires like:
The True Story of the 3 Little Pigs is a fractured fairy tale of "The Three Little Pigs." Author Jon Scieszka could be satirizing victim mentality, as the wolf blames his harmless cold and the pigs' rudeness for their own demise. Aidyn loved hearing the other side of this familiar story.
We also read another of Scieszka's books, The Stinky Cheese Man and other Fairly Stupid Tales.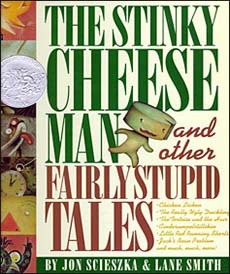 Now this is a FUN read. Familiar fairy tales are not only distorted but laugh-out-loud funny to read.
We also watched Spaceballs because it's hilarious and why not? to learn more about satire and parody.
Language Arts: Read-Alouds:
We read more serious fox stories like Red Fox Running by Eve Bunting.
Wendell Minor's paintings in the book are truly beautiful.
We also read a chapter book called Ereth's Birthday (by Avi), a poignant story of a grumpy porcupine who cares for three fox kits when their mother dies.
Language Arts/Vocabulary: Morse
"But if you meet a friendly horse, will you communicate by Morse?"
Aidyn wasn't sure what "morse" meant, so we read Radio Rescue by Lynne Barasch. The story follows a young boy who, at the age of 10, became the youngest licensed amateur wireless radio operator in 1923.
In a world of tablets, smart phones, and computers, we don't usually hear about Morse code and "ham" radios, but Aidyn found it fascinating.
He even practiced "tapping" his name in Morse code with a guide at the back of the book.
Social Studies/Geography: Norway
Because Ylvis is Norwegian, we learned a bit about Norway with this book:
We talked about the geography of Norway, its mountains and fjords, the weather, its rich history and royal family, the Sami ethic group that lives there, the food, and their languages. Aidyn was especially interested in the Sami people and did some copywork about them.
Science: Fox study and What Do Foxes Really Say?
We used Foxes by Sandra Markle to learn about foxes.
Aidyn picked his favorite fox fact for copywork.
He worked on handwriting with fox facts.
And then, we answered the question: what do foxes really say?
We learned that foxes actually make a lot of different sounds from barks to purrs, mating calls, and gekkering. Aidyn busted a gut when we heard a fox "scream" in the video.
Art: Drawing foxes
We spent an afternoon learning to draw foxes with the help of a couple YouTube videos:
Makin' Memories: Baking fox food (aka Blueberry Muffins)
In our studies, we learned that foxes love eating berries, so we made some yummy blueberry muffins.
Even Jack got in on the fox fun--even if all he did was dress up!
We had a blast turning Ylvis's song into a fun and foxy unit study! We're guaranteed to remember all we did whenever we hear that silly song (which I'm sure will be at least 547 times a week until Aidyn finds something else to annoy me with share with me!)